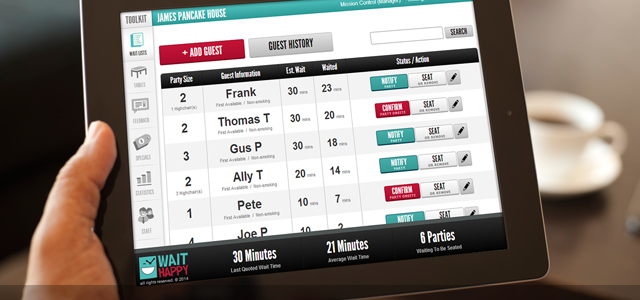 Control Your Customer Experience
WaitHappy Mission Control is cloud based software that helps restaurants manage their wait lists, tables, comment cards, and customer experience to ensure your customers are happy, because as we all know, Happy Customers Come Back.
Mission Control features include:



Wait List Management

Free your host staff from paper wait lists and those pesky patron inquiries! Instead, give them the easy-to-use tools to increase business, improve efficiency, and manage remote wait list additions.


Streamline Notifications

Kill those expensive, short range pagers! Instead, unleash your patrons to window shop and notify them anywhere with enhanced mobile push and text notifications to their mobile phones.


Table Management

Easily customize your restaurant preferences and table setup to manage seating fequency and time, table status, patron assignments, and more!


Reservations & To-Go

Fully customize your WaitHappy business with the ability to streamline your restaurant's reservations and to-go orders processing.


Closed Loop Comment Cards

Automatically send comment cards for honest feedback about your staff, your menu, the experience, and more. Straight from them to you!


Promotions & Specials

Lose the chalkboard and easily manage your restaurant's dish of the day, bar specials, discounted items, kids eat free programs, and more!


Deeeeeep Analytics

Tired of guessing? Get the right answers at the right time to know what kind of traffic your organization should expect, how efficient your wait program is, when to expect the rush, and more!


Hardware Independence

WaitHappy is built to be simple and runs on ANY desktop, laptop, tablet, or mobile device. Forget about any pesky upgrades and downloads too. If you have access to internet you are on your way!


Custom Business Logic & Notifications

WaitHappy allows you to setup your business dozens for different ways with separate manager and hosting accounts, custom guest and manager notifications, and more.
And more…
What are you waiting for? It's Free.